Automatic tape strapping machine For paper carton box wrapping/single side tape sealing for paper case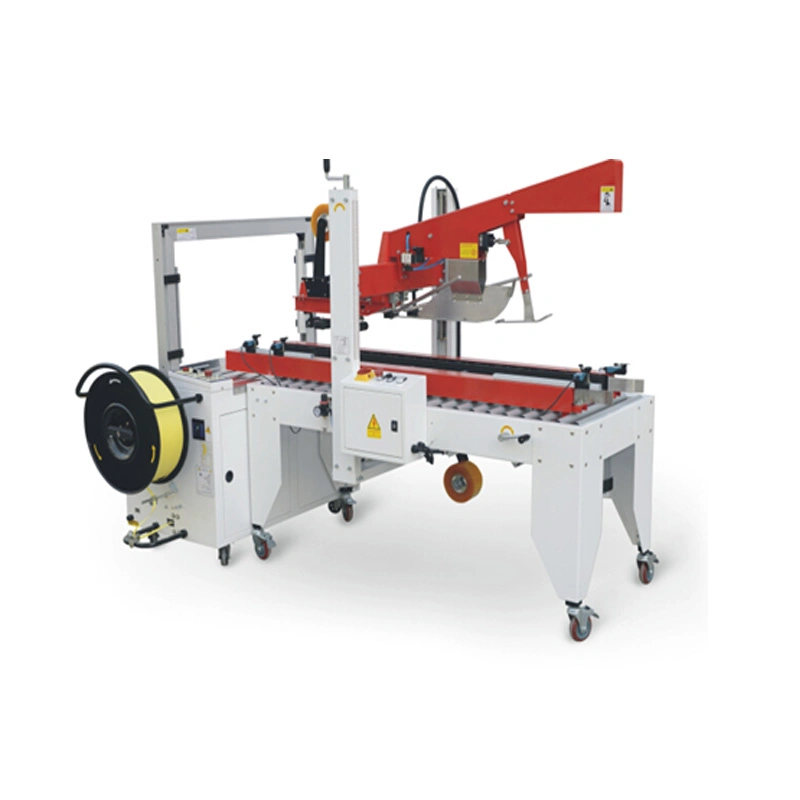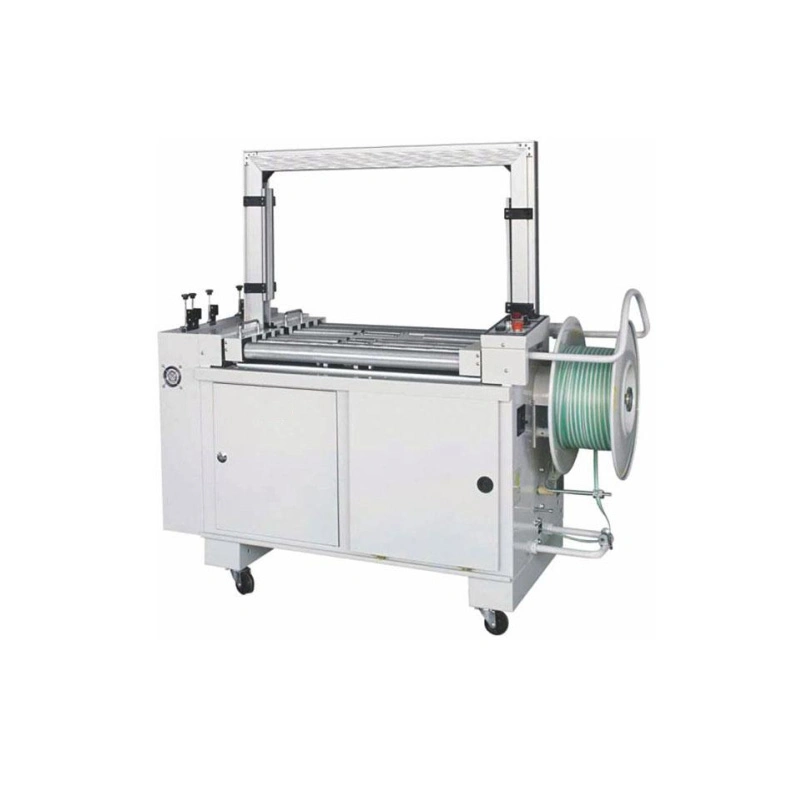 Main features of unmanned baling machine:
1.Motor + reducer + CAM operation, mechanical structure, completely free of oil, the end of the baling motor will stop running immediately
2.High binding force, tooth structure, high tensile strength, high strength cutting knife, good performance
3.Movement control body frame for the whole die-cast aluminum alloy, strong and never rust.
4.The parts and components are made by CNC machine tools with soft mechanical operation, excellent durability and perfect functions.
5.Use ultra thin high quality PP belt effect!The cost can be reduced by 30%.
6.The binding force and the amount of belt can be adjusted.

Main configuration of unmanned baling machine:
Power motor -- Taiwan "shengbang",
Electrical configuration: PLC -- "Siemens",
Photoelectric -- "power supply",
Relay -- "schneider", ac contactor -- "schneider",
Motor -- "force horse", "DSI"
Proximity switch, "DSI" PCB

Technical parameters:
Power supply : 3ph-380v /50HZ, 1.25kva
The power : 1.5 kw
Paper core diameter : 200mm
Belt Grooved : 15 mm
Applicable PP band thickness : 0.55 ~ 1.2mm× width: 9 ~ 15mm (can be customized according to actual needs)
Baling Packing speed : 26 times/min (standard bow frame)
Working table : 750mm (with the height of the assembly line)
Standard framework : W1070×H668(external) W800×H600(internal)
The maximum bale size : shall not exceed 800mm wide × 600mm high
The minimum bale size : 100mm wide × 30mm high
Maximum tightening force : 5-80kgs(adjustable)

The strapping method is parallel to 1 ~ many, the way has the photoelectric control, the manual and so on;
Bonding mode hot melt interface;
Bonding site bottom;
Bonding surface 90% or higher;
Drum speed : 18 m/min;
Wolume : W600 *L1410 ** H1540mm ;
Weight : 290kg (gross weight) /240kg (net weight);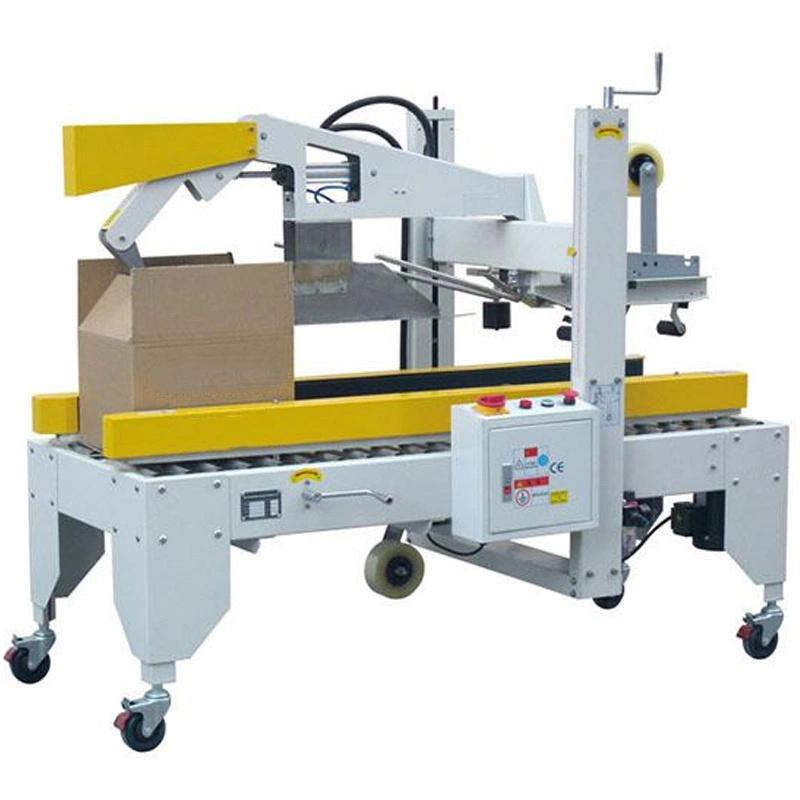 Auto Fold Cover Carton Sealing Machine For Carton Packing

Product Descriptions:
1. Spare parts and electrical components imported from Taiwan;
2. Equipped with blade protection device to avoid accidental stabbing during operation;
3. Two side under belt drive, upper and lower seal, economy, fast, stable;
4. Adjust the width and height manually according to the carton specifications;
5.Can be a single operation, and can also be matched with the automatic packaging line


Parameters:
Power Supply:
380V/50Hz/400W
Demension:
L2000×W930×H1500mm
Work Surface:
700-750MM(Adjustable)
Conveyor Speed:
20 meter/Minute
Packing Specifications:
Length:250-600MM
Width:
150-500MM;Height:150-500MM
Packaging Tape:
BOPP Tape
Tape Applicated Size:
48-72MM Width
Performance:
Automatic folding cover; manual adjustment of width,height,and length of the belt;Working Match with Packer.
Work Environment:
Humidity≤98%, temperature 0-40ºC
Working noise:
≤75DB
Electrical configuration:
Motor:
Taibang motor
Pneumatic components:
Taiwan yade
Contactor/intermediate relay:
Schneider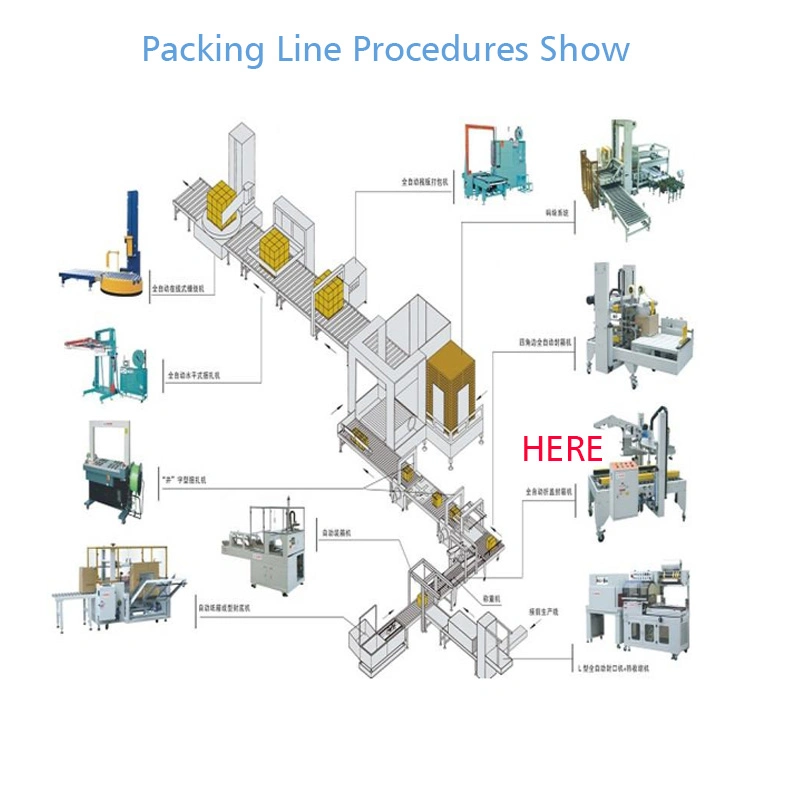 1) Free Training: Our factory can Freely train the user&technician for normal operations,maintaining.
2) Agent Services: Our Agent will give you services in time and professional guidances
3) Video: For some unexpected happens out of trainings,and our agent can not handle also, let us know your problems,we can make video for your to operate,repair,adjust etc.
4) Can give your supports from factory directly if necessary
5) Components with quality problems are guaranteed to be replaced within one year
6) Professional and Detailed product specifications for normal operations, problem solving,and maintaining




Dongguan Zhengrui Automatic Equipment Technology Co.,Ltd is a scientific and technological with independent design,production,commissioning,sales, and after-sale capability of automatic single-machine,automatic whole plant equipment.Provide the solutions of Package production lines for customers.

ZR Focus on package equipment of glass silicone glue,Sealant,Electronic Glue and Other industrial field.ZR Produced Equipments of products,Static Mixer,Color Mixer,Full-automatic Hard-branch Loader,Semi-automatic Hard-branch Loader,Soft-branch Loader,Press and Back-end packaging lines,Won good reputation from Market.

ZR Had constantly lauched more huanized products and continuously obtained new parters,hope more factory to solve the production solutions on package.ZR is in a period of rapid development,We are energetic and professional,Effective teams and management,ZR will be your better supplier for your packaging machinery,and provide better solutions for your production lines, help your works more effective,Save your cost.We aim to grow with our customers and Parters.




1. Trade terms: EXW, FOB, CIF, CFR.
2. Payment terms: 40% T/T deposit, 60% T/T balance before shipment.
3. Delivery Time: Usually 30-45 working days, depends on different order quantity.
4. Shipment: By Sea, by air, by railway or by truck, according to customer requirement.
5. Packaging: Film wrapping inside, Export Standard Plywood Case outside.
6. Warranty: One year free for replacement of wearing parts, cost price beyond warranty.